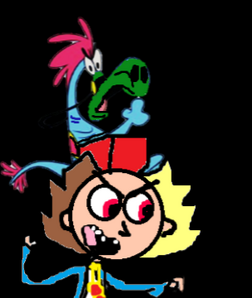 Las Aventuras de Gunther-Purk en Latinoamérica y en España , The Adventures of Gunther-Purk: Gadget Alien Human from of Europe in North America en USA , es una serie de cómics creado por el creador Fabricio Yahir
Hace tiempo un italiano del tiempo vivía en Nueva York llamado Gunther-Purk , es un adolescente que vivia con sus amigos Adri , Tech Wolf y Gorgozoloncio , el vivia muchas aventuras tan maravillosas , viaja al tiempo y salva civilizaciones y su amigo Bolso Kelly , el saca en la boca uno de los maravillosos aparatos con tecnología extraterrestre reales y ficticios.
los D.R.I.M.A.X los monstruos extraterrestres son criaturas del espacio que vivia en la tierra y en Mundo D.R.I.M.A.X que tambien hay humanos
sus enemigos letales son H2Olivia, la Gente Tigre, El Lagarto y su primer y viejo archi-enemigo El Samurai de la Rodilla de Bronce
los maravillos aparatos alienigenas tienen dentro de la boca de Bolso Kelly , cuando Gunther saca de unos que puede hacer cualquier cosa.
hay cómics que son creados por Fabricio Yahir
Arreglo Literario.-se trata que una niña que le dice a Gunther que le contaba un cuento , y en eso hace llorar , Gunther usó los Zapatos Entra-Cuentos y entra el cuento para modificar.
Community content is available under
CC-BY-SA
unless otherwise noted.